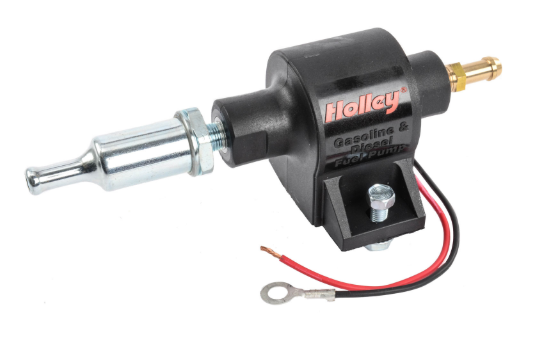 Can I run an electric fuel pump?
**We dont test our engines with electric fuel pumps because it adds further complication to an already complicated product and we cannot provide tech support for those who chose to make that modification.**
The factory mechanical fuel pumps are basic and they just plain work. The design has been around for decades and has been used on millions of golf carts since their inception. However...
Every once in awhile, there is a customer who just cant get their mechanical fuel pump to provide consistent fuel and not over-run the carburetor. Most of these issues are related to old gas tanks, clogged siphon tubes, vacuum leaks from engine to pump, etc. Sometimes its just too much work to try to track the issue down, Afterall, its an old golf cart with a new motor going in it.
In this case, an electric fuel pump might just be what the doctor ordered.
It has been brought to our attention that the Holley Mighty Mite 12-426 works well and can be wired to a relay that turns on when the ignition is turned on. A fuel return may be necessary to prevent carburetor over-run.